Flights to Luxor
Rediscover the ancient civilization of Egypt in Luxor, a city located in the northern part of Egypt, which lies on the banks of the River Nile, almost 700 km south of Cairo. Luxor is filled with ancient treasures, historical and cultural attractions, oldest temples, royal tombs, museums and street markets. Rehlat offers a wide range of cheap flights to Luxor including one-way or round trips. Get cheap international Luxor flights from all across the world and save huge only on Rehlat. Pick your suitable schedule on Rehlat and book your flights to Luxor at amazing low fares.  
Things to Do & Popular Places in Luxor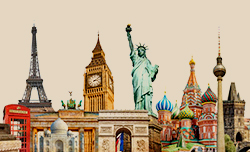 Don't Miss Karnak
Luxor boasts with beautiful banks of Nile River, which features the west bank with its tombs and the east bank with the city's temples. Luxor is famous for its historical sand colour temples and number of old attractions such as Valley of the Kings, Luxor Temple, Colossi of Memnon, Medinet Habu, Deir el-Bahari, Deir el-Medina, Ramesseum, Valley of the Queens, Luxor Museum, Hagag Mosque and Temple of Montu. One must not miss to visit the largest religious building ever made, Karnak in Luxor.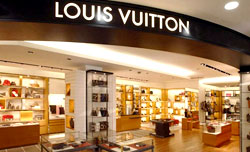 Best Shopping Malls
You can find a lot of outlets which sells souvenirs, gifts, scarves, clothing, ceramics, leather goods, spices, vegetables, fruits and much more. Don't be surprised if you can't find big shopping malls or glamorous shops in the city as London has maintained its old world charm.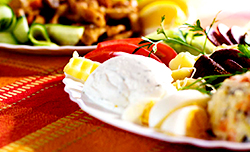 Food and Dining in Luxor
You can find wide range of Arabian, Indian, Chinese and Italian dishes. Taste famous Egyptian dishes such as Shurbit 'adas, Shurbit khudaar, Fuul, Taamiya, Shawarma, Tahina, Babaghanoug, Kushari, Hawawshi, Shakshouka, Makarona and Mahshi.
Transportation in Luxor
Visitors can travel in and around the city through different mode of transportations including buses, taxis, mini-buses, modern air-conditioned cabs, trains and ferries. You can also hire bicycles and motorcycles from several shops to travel in Luxor.

Luxor Airport Information
Luxor International Airport is the major airport in the city. The airport is situated just 4 miles (6 kilometres) from east of Luxor. This airport is serving several million domestic and international passengers from different parts of Middle East and Europe.

Local Transportation To & From Luxor Airport
You can find large number of buses and taxis to travel from Luxor International Airport to the city. It will take around 22 minutes to travel from airport to centre of the city.

Popular Airline Routes
Luxor Airport AddressLuxor International Airport,
IATA Code: LXR
Monshaat Al Amari,
Luxor,
Luxor Governorate,
Egypt,
Phone:+20 952324455
Scroll