Cheap Flights to Dusseldorf
Dusseldorf Flights
Book your flight to Dusseldorf - the capital of the German Federal State of North Rhine-Westphalia and (together with Cologne and the Ruhr Area) the economic center of Western Germany is located on the River Rhine. The city is one of the main centers of the densely populated Rhine-Ruhr area. Dusseldorf is not only popular as a stronghold of the German promoting and fashion industry, but it has become a top telecommunications center in Germany in the last few years.  Düsseldorf has medieval history, up-to-the-minute culture, and an electrifying night-life. Are you looking to book flight tickets to Dusseldorf? Then make sure to log in to Rehlat for more and more offers and deals on your Dusseldorf flight bookings.
Things to Do & Popular Places in Dusseldorf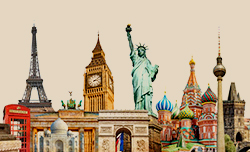 Don't Miss Dusseldorf Attractions
Explore the dazzling city's beautiful tourist attractions, sightseeing places and churches. Düsseldorf, which is thriving and constantly changing, also consists of a famous Film Museum with several exhibits devoted to the world of contemporary cinema. You can find a tropical rainforest along with a butterfly garden. You can also see lots of fish, alligators, and otters. This is a great treat for small children. The major attractions of Dusseldorf are: Alter Golzheimer Friedhof (cemetery), Burgplatz, Carlsplatz, Heinrich Heine birth place, Nordpark, Japanese Garden, Berger Kirche, Johanneskirche, and Basilica St. Margareta (Catholic Church).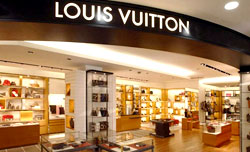 Best Shopping Malls
Düsseldorf is a great hub for shopping, the renowned capital of German fashion, the country's arbiter of sophistication and style. From suburban hypermarkets to super chic boutiques, Dusseldorf caters to all tastes and budgets. In fact, the city is one of the most elegant shopping metropolises worldwide and is home to the branches of all the top designers, and to exclusive jewellers, perfume, porcelain and antiques shops that can provide everything.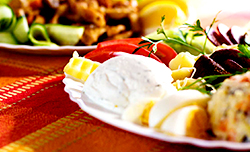 Food and Dining in Dusseldorf
The charming city offers excellent restaurants with several delicious cuisines. Whether going out to traditional, local or international places such as French, German, Italian or Belgian, the variety of style, quality and budget is extraordinary. Trying Asian food is a must in the city with Japanese restaurants and sushi bars high on the list. Eating out, wining and dining or partaking of dinner in Düsseldorf can be a delight. Several lavish restaurants offer a variety of menus while the range of cuisines available in this small but cosmopolitan city is surprising.
Transportation in Dusseldorf
Düsseldorf consists of a few crisscrossing streets set next to some parks and the river, with manageable distances. So, the Public transport and taxis can be found on nearly every corner. Getting to and from the city is fairly easy too. Trains depart from Düsseldorf central railway station to join the national rail network. Düsseldorf International airport is seldom more than ten to twenty minutes away. Other airports in Weeze, Dortmund and Cologne offer fewer destinations and are roughly an hour's drive away.
Airport Information Dusseldorf
Düsseldorf Airport is the third largest airport in Germany, which is located north 4 kilometers away from the city centre of Düsseldorf city. Nearly 21.8 million passengers fly through this airport each year and operate non-stop flights to 174 domestic and international destinations.
Düsseldorf Airport has three terminals connected by a central spine and all the terminal buildings are well equipped with all the passenger facilities. Düsseldorf Airport boasts a sophisticated design that is easy to navigate.
Local Transportation To & From Dusseldorf Airport
It is a mere ten kilometers and ten minutes by taxi from downtown. The terminals also connect well with the national rail system; local public transport and the motorway network. The nearest alternatives are Cologne/Bonn, Dortmund, and Weeze, all about an hour away. Buses, tramways, and suburban rails are the popular means of transportation to get around the city.
Popular Airline Routes
Dusseldorf Airport AddressDusseldorf Airport,
Flughafenstraße 120 40474 Dusseldorf,
Germany
Ph:+49 211 4210
Scroll