Cheap Flights to Trivandrum
Flights to Trivandrum
Trivandrum is recognized as one of the most visited cities in India and it is also known by the name Thiruvananthapuram. Whether you're booking flight ticket to Trivandrum for business or leisure trip, we at Rehlat provide you to make travel stress-free from the minute you drive up to the airport terminal. Book flights to Trivandrum with Rehlat and avail special offers on airfare deals, and discounts.
Things to Do & Popular Places in Trivandrum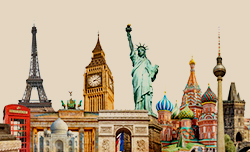 Must Visit Places in Trivandrum
Trivandrum is an ultimate tourist destination for any traveler around the world. The striking capital of Kerala is known for its rich culture, history, idyllic beaches and mouth-watering traditional cuisines. Trivandrum has some of the best iconic landmarks like the Kanakakunnu Palace, Neyyar Dam & Wildlife Sanctuary, Observatory, the Napier Museum, and the Zoological Park.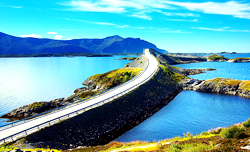 Historical Sightseeing's in Trivandrum
The bursting capital of Kerala, Trivandrum is blessed with a rich historical scene and colorful culture. With more than 20,000 years of history, Trivandrum is filled with numerous historical sites including Anjengo Fort, Krishnapuram Palace, kerala museum of history and heritage, Napier Museum, Kanakakkunnu Palace, and Thiruvananthapuram Zoo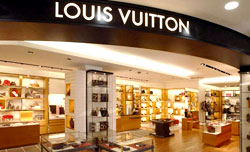 Best Shopping Streets in Trivandrum
Trivandrum is a significant shopping hub for shopaholics. The stunning coastal city boasts with modern-day malls to traditional bazaars and branded outlets to street markets. Check out some of the best shopping places including Palayam, Mannanthala, Chalai, sastamangalam, and Pazhavangadi.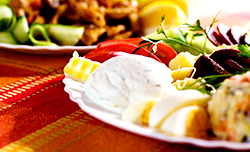 Exotic Dining Experience
Trivandrum is one of the finest dining destinations in India, offers a multitude of cuisines ranging from the traditional sadya to seafood delicacies. You can enjoy an unforgettable fine dining experience with restaurants in Trivandrum like Zam Zam Restaurant, Villa Maya Heritage Restaurant, Thakkaaram, Oriental Spice, Curry Chatty and the Imperial Kitchen.
Transportation in Trivandrum
The local transportation in Trivandrum is well developed with different modes of vehicles including public buses, taxis, auto rickshaws, and trains. Kerala State Road Transport Corporation offers numerous public buses from one point to another point at an affordable cost.
Trivandrum Airport Information
Trivandrum International Airport is one of the busiest airports in India that serves domestic and international flights to all major destinations. It is the main hub for Air India Express.
Terminal 1 is used for domestic arrivals and departures (except Jet Airways and Air India).
Terminal 2 handles international flights and domestic flights of Air India. It is equipped with cafes, shops, wine bar, restaurants, and much more.
Local Transportation To & From Trivandrum Airport
Trivandrum offers plenty of options including public buses, taxis, auto rickshaws and prepaid taxis. KSRTC operates large number of city buses from outside the international terminal to reach the city center. Prepaid taxi counters are available outside the Trivandrum International Airport arrivals.
Popular Airline Routes
Trivandrum Airport AddressTrivandrum International Airport
Airport Road, Chacka,
Vallakkadavu,
Thiruvananthapuram,
Kerala 695008
India
Scroll