Flights to Mashhad
Mashhad is a city located in the northeast of Iran, the center and capital of Razavi Khorasan Province and the second largest populated city after Tehran. Mashhad was chosen as Iran's Capital during the reign of Nader Shah Afshar. The city is considered as one of the holy land for Muslims. The city is blended with old and rich heritage and is most famous and admired for housing the tomb of Imam Reza, the eighth Shia Imam. Mashhad is best known for its beautiful pilgrimage shrine of Imam Reza. Persian is the language used in the city and the currency is Iranian Rial. Book flights from & to Mashhad with Rehlat today - Save big on Mashhad flights & airfares.
Things to Do & Popular Places in Mashhad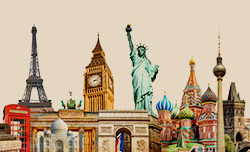 Don't Miss Mashhad Pilgrim sites
The city is considered as the pilgrim site for Shia Muslims. There are many attractions like historical tombs and parks. 'Imam Reza Shrine' is the most visited spot in the city; annually 25 million pilgrims come to the city to offer their prayers. This complex holds excellent architecture with beautiful carving and historical texts. Nader Shah, Gombade Sabz, Ferdowsi Park are famous archaic shrines.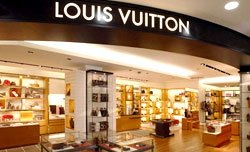 Best Shopping Malls
Shopping in Mashhad is like paradise; you can find all Iranian special items. Salted nuts, dry fruits, saffron and authentic Iranian sweets are very famous. You can also shop silver jewellery, gold jewellery, rubies, emeralds, religious souvenirs; carpets, rugs, scarves etc. are few popular products available in the shopping areas of Mashhad. Bazaar-e-Reza, Kuwaiti Bazaar, Shargh-Zit Trade Centre, Zist Khavar, Almas-e-Shargh are few famous shopping areas.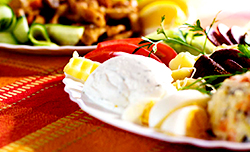 Food and Dining in Mashhad
Mashhad consists of many Cafes, restaurants and finest hotels. Authentic Chello murg, Chello kebab, are Iranian famous dishes that are commonly found in almost every corner shop and the city is also well known for freshly sweltered breads and Irani tea.
Transportation in Mashhad
Like the other modern cities, Mashhad has a complete and compact system of public transport bus service. You can travel to every point of city with a very low cost using this service. The bus stops almost can be found in nearest place to your home or office. Buses, metro trains and urban rail line are major transport facilities in Mashhad.
Mashhad Airport Information
Mashhad International Airport or Shahid Hashemi Nejad Airport is the second busiest airport in Iran. The airport serves both domestic and International flights to the countries around the Persian Gulf. The terminal handles nearly 2 million air traffic per year and it is currently undergoing a major expansion.
Local Transportation To & From Mashhad Airport
Buses and Metro lines are the major transport facilities to travel from the city to Mashhad airport. Guests can rent the cars to reach out the airport easily.
Popular Airline Routes
Mashhad Airport AddressKhorasan Razavi,
Mashhad,
Hasheminejad Blvd,
Ph: +98 51 1340 0001
Scroll