Flights to Beirut
Beirut has its own identity with prestigious past. Being the capital of Lebanon, Beirut is a thriving hot spot for countless tourist attractions, luxury shopping malls, and sightseeing's. Rehlat offers best deals and special discount offers on Beirut flights. Find the cheapest Beirut flight tickets on Rehlat and grab the best deal for your journey. Follow Rehlat on Facebook & Twitter for instant updates on Beirut flight deals, hotel discounts, travel ideas, and much more.
Things to Do & Popular Places in Beirut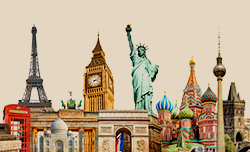 Must Visit Places in Beirut
With a rich past, Beirut has enormous historical and archaeological wonders. The city has several museums to showcase the Lebanese culture, archaeology, heritage, and history. Beirut has many interesting places to visit including Pigeon Rocks, Place d'Etoile, Robert Mouawad Private Museum, Planet Discovery, Sursock Museum, and much more.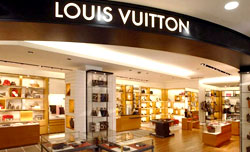 Best Shopping Streets in Beirut
Beirut is the fashion capital of Lebanon with enormous designer clothing and jewelry stores spread across the city. Beirut makes you a spendthrift during the trip with all its latest fashion designs. Check out the best shopping locations like Hamra St, Downtown Beirut, Hazmieh, and Bayrut.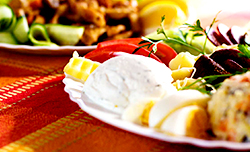 Exotic Dining Experience
Beirut is one of the finest destinations in the world that offers mouth-watering cuisines that combine mixed elements of different culinary traditions. You can enjoy the unique taste of traditional Lebanese food like hommus, fattoush, kibbeh naye, muhalabiyyah, koshary and much more. Beirut is filled with hundreds of restaurants including Mayrig Restaurant, Enab Restaurant, Tawlet, Babel, and Al Falamanki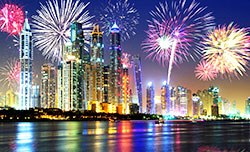 Beirut's Enticing Nightlife
Beirut is known for its vibrant nightlife. The nightlife of Beirut has a large number of night clubs, pubs, bars live music and dance. Check out some of the best nightlife places like Martyrs' square, Downtown Beirut, and Hamra Street.
Transportation in Beirut
Beirut has one of the largest transportation networks in Lebanon. There are different types of vehicles including buses, taxis, mini buses, and trains. Taxis are available 24/7 at any corner of the street.
Beirut Airport Information
Beirut–Rafic Hariri International Airport is the major airport in Beirut that serves international and domestic flights to all major cities around the world. This airport is the primary hub for Med Airways, Middle East Airlines, and Wings of Lebanon. Located about just 9 kilometers from the heart of the city, Beirut–Rafic Hariri International Airport handles more than 7 million passengers annually.
The Main Terminal is used for domestic and international flights. This terminal is filled with world class amenities including duty free shops, restaurants, exclusive lounges, cafes, and much more.
Local Transportation To & From Beirut Airport
Tourists can reach the airport only through taxis and buses. Public buses are the major sources to get around the city. Taxi and cabs are available outside the airport arrivals.
Popular Airline Routes
Beirut Airport AddressBeirut–Rafic Hariri International Airport
Beirut,
Lebanon
Ph: +961 1 628 000
Scroll