Flights to Geneva
Take flight to Geneva, the second largest and most populous city of Switzerland. The city is popularly known for being the home for many international conventions and diplomacy. Geneva, the Peace capital of the world has plentiful things to explore such as historical marvels, architectural buildings, monuments, shopping streets, and many more. Take a flight to spend your vacation in one of the most dynamic cities of Europe. Book your flights to Geneva on Rehlat at unmatched low fares. Rehlat offers a range of deals and special fares on every Geneva flight booking.


Things to Do & Popular Places in Geneva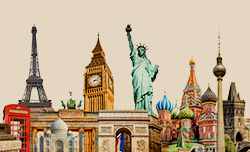 Don't Miss St. Pierre Cathedral
Geneva is a bustling city, and home to numerous luxury product manufacturers, international organizations, convention centers, various monuments, parks, museums, and many more interesting attractions. St. Pierre Cathedral is a Romanesque church in Geneva. It is a must-visit attraction of Geneva with Gothic architecture. Jet d'Eau (water fountain), Old Town, Palais des Nations, Quartier des Grottes, Monument Brunswick, Ile Rousseau, L'Ile, Jardin anglais, Place Neuve, Eaux-Vives, and Carouge are the major landmarks in the city that deserves a visit. Whilst the popular parks of the city include Parc des Bastions, Parc des Eaux Vives, Parc de la Grange, and Bois de la Bâtie.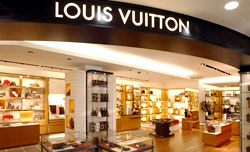 Best Shopping Malls
Geneva is a global city with modern culture and expensive living. Finding the branded stores or upscale shopping centers is not a hard thing. The city boasts abundant shopping malls, local boutique streets, independent shops, souvenir sellers, and much more. City is famous for plentiful watch manufacturing companies that produce the world's renowned brands. Visitors can purchase the best designs from the massive collection of watches. A variety of chocolates, wines, spirits, Swiss souvenirs and much more are primary shopping goods that should occupy space in your bag. Numerous bars and taverns are flanked in and around the city.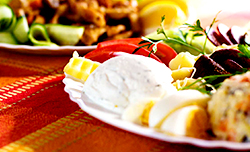 Food and Dining in Geneva
Being an international corner, Geneva boasts enormous restaurants with luxurious varieties and high class ambiance. Downtown of the city is an expensive dining destination as it has all up-scale and star hotels. Along with ethnic varieties, visitors can also find regional specialties of the city. It is tough to choose a unique bar or club or even cultural event to spend you nightlife in Geneva, as you can observe an energetic nightlife in the city. Numerous wine bars, cocktail bras, music venues, clubs and taverns are flanked in and around the city that allows you to indulge in the vibrant nightlife.
Transportation in Geneva
Geneva offers a range of public transportation options including buses, trains, trams, boats (mouette), intercity bus, and suburban train system. Bus tickets can be purchased at the machines at newspaper stands or next to the stops. Ferry shuttles are operated to connect the right and left banks ok the city at a frequency of 10 to 30 minutes. Bicycles are available with deposit to roam within the city. You can find beautiful bicycle paths in the flat areas of the city. You can take taxi (limo or SUV) to any destination. Gare Cornavin, the central train station that links airport and any part of the city.
Note: Try to give exact cash. Machine takes only coins and do not dispense remaining change.
Geneva Airport Information
Geneva Airport (IATA: GVA, ICAO: LSGG) is the second largest airport in Switzerland. The airport is located approximately 5 kilometres away from center of Geneva. The airport majorly serves to international destinations and handles 15 million passengers each year. On an average the airport handles (arrival/departure) one flight for every minute. Geneva Airport is a hub for Etihad Regional and EasyJet Switzerland. The facilities of the airport include Banks, ATMs, currency exchange, travellers checks, tax refund, Conference rooms, business corner, free Wi-Fi, internet with printer access, VIP lounge, Laundry, play room, spa, left luggage deposit counters, duty-free stores, coffee shops, electronics stores, wheelchair assistance, information desk and much more.
Local Transportation To & From Geneva Airport
Several transportations choices are available to take you to and from the airport. The cheapest way of transportation from the airport is through free public transport ticket, this can be taken from the ticket machine, which is located at the baggage claim area. The ticket can be used either to travel by train or bus and only valid along with your boarding pass. Taxis and rental cars are also available to get to and from the airport. Besides these options, hotel shuttles are available to reach the airport.
Popular Airline Routes
Geneva Airport AddressGeneva Airportt,
Route de l'Aéroport 21,
1215 Le Grand-Saconnex,
Switzerland
Ph: +41 22 717 71 11
Scroll