Flights to Izmir
Fly to Izmir, Turkey's third largest city which lies in the coast of the Aegean. It is also called as `The pearl of the Aegean` and famous as the gateway of the Aegean. Find out exclusive deals on Izmir Flights and experience the world class services and warm hospitality on all leading international airlines. It is a quick and easy process to book flights to Izmir at affordable prices in comfort and style. Rehlat offers a wide range of cheap flights to Izmir including one-way or round trip as well as provides daily schedules & information on non-stop flights to Izmir. Get cheap international Izmir flights from all across the world and save huge money on your online booking.
Things to Do & Popular Places in Izmir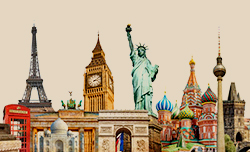 Don't Miss Izmir Clock Tower
The historic city, Izmir is filled with a good number of sights. You can spot the Izmir's emblematic clock tower in Konak Square, which was built in 1901. Izmir is a well rich city with full of festivals, museums, and art. The Izmir International Fair is a trade show that brings a series of festivals and musical and cultural events together. The other must-visit tourist attractions include Kadifekale, Key Museum, İzmir Art and Sculpture Museum, Yamanlar mountain, Karataş, İzmir Archaeological Museum, Hisar Mosque, Izmir Atatürk Museum, archaic Konak Yali Mosque, Atatürk Monument, and much more. See the beautiful city from Asansör, a historical building.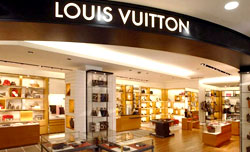 Best Shopping Malls
Enjoy the great shopping at Izmir's countless shopping venues from shopping malls to local bazaars. Kemeraltı is one of the oldest marketplaces where you can find everything from its hundreds of shops. Alsancak, Kemeraltı, Kıbrıs Şehitleri Street, Kızlarağası Caravanserai, and Karşıyaka are the popular shopping destinations of Izmir. Kızlarağası Caravanserai is a 300-year old building that houses 200 small outlets; where you can find from souvenir shops, tattoo studios, clocks, cameras, antique shops and much more. Besides these, you can find collective small shops selling souvenirs and traditional clothing. Find the branded products in Izmir shopping malls such as Forum, Ozdilek, EGS Park and Agora.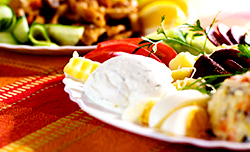 Food and Dining in Izmir
Dining in the Izmir will last forever. Many restaurants and hotels serve delicious Turkish culinary with great ambiance. Don't miss to taste the popular dishes of the city such as Kaburga Dolması, Tava, Kumru, and Topcu. Tulum Peyniri cheese, Boyoz pastry, Köfte, Kokoreç, and fincan (Turkey traditional tea) are other must taste items in the city. You can experience the lively nightlife at 'Karsiyaka Kadifekale'. Izmir has the best nightlife experience with its colorful and stunning bars, restaurants, pubs and night clubs. Alsancak and Bornova are the best streets to find glittery nightlife in Izmir.
Transportation in Izmir
The city is well connected with all means of public transportation like intercity trains, metro, buses, taxis and ferries. If you want to travel inside the coast, ferries are most preferable, because they are easy, fast and cheap. There are frequent bus services to travel in and around the city. You can also find a number of taxis at reasonable prices. Make sure to pay according to the 'taksimetre'. In addition, minibuses are available at the central part of the city.
Izmir Airport Information
Izmir Adnan Menderes International Airport (IATA: ADB, ICAO: LTBJ) is serving Izmir and most of the province in Turkey. The airport is 18 Kilometers away from the city center. It serves around 18 million passengers annually. The airport is flying to a number of destinations across the world. This airport is main hub for the airlines such as Turkish Airlines, Izair, SunExpress, and Pegasus Airlines. The airport is equipped with check-in counters, baggage claim, ATM, souvenir shop, prayer room, conference hall, bank, post office, lounges, duty-free shops, and much more.
Local Transportation To & From Izmir Airport
Numerous options are available to reach the airport. You can opt for any of the transportation options including taxi, public buses, Havaş shuttle, subway, ferry lines, and car rentals. Ferry services are available from 8 destinations including Bostanli, Bayrakli, Pasaport, Pasaport, Uckuyular, Karsiyaka, Alsancak, and Konak. It takes approximately 60 minutes to reach airport through Havaş shuttle. Subway provides transportation to the airport in two directions (North and South) on selected destinations. You can find a number of car rental firms at the airport that serve 24x7.
Popular Airline Routes
Izmir Airport AddressAdnan Menderes Airport,
IATA Code: ADB,
Dokuz Eylül Mh.,
35425 Gaziemir/İzmir,
Turkey
Ph:+90 232 455 00 00
Scroll