Flights to Kayseri
Book your flight to Kayseri, a large and vibrant city in Central Antalolia. It is used to be a sleepy conservative town but is now rapidly growing into a bustling city.  And it is one among the oldest and largest cities in Turkey with around 1 million inhabitants. It is located at the tip of vanished volcano Mount Erciyes. Looking for great deals on cheap flights from Kayseri? Well, don't worry, Rehlat offers some of the lowest fares on your flight booking to Kayseri. Book and save big now.
Things to Do & Popular Places in Kayseri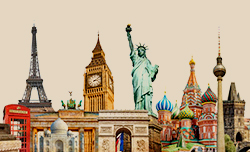 Don't Miss Kayseri Attractions
Kayseri is a large and industrialized city in Central Anatolia, Turkey. The city is rich in historical monuments, dating especially from the Seljuk period. The city has more than 43 companies with an investment of 140 million dollars. Kayseri is loaded with many historical sites, and tourist attractions. Hunat Hatun Camii is an ancient mosque with stunning architecture, the statue of Mimar Sinan, clock tower, Statue of Mustafa Kemal Ataturk, Ataturk's house, Kayseri Surp Krikor Lusavoric Armenian Church, Museum of SeljuK Civilisation, Ethnography Museum, Doner Kumbet and roman tombs are must visit landmarks of Kayseri.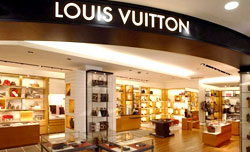 Best Shopping Malls
There are a lot of shopping centers with the worldwide fashion and entertainment tenants. With the available stores and shops located in all entrances of Kayseri, you will be able to find ski clothes, shoes, and other needs of yours for a very affordable price. Children, women and men ski and mountaineering equipments are at your disposal by our experienced operators. One can find expensive hand-woven carpets, terracotta gift items and ceramics in underground shopping bazaars.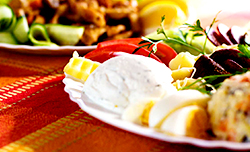 Food and Dining in Kayseri
Sausage, mantısı, bacon, patty, yağlama and crisp flaky pastry... Kayseri's special cuisine is waiting for you to enjoy it. Being an ancient city, it offers many delicious culinary with authentic menus for the tourists in the city. However, one must taste the local and traditional culinary which are explicitly available in the city's eateries. 'Kayseri Mantısı' is the authentic and typical Kayseri's culinary. Specially cooked 'Pastırma' and luscious kebab 'İskender' are also must food bites of the city.
Transportation in Kayseri
The major transportation of the city will be operated by buses and you can find frequent and convenient bus service for every 10 minutes. You can also make use of Mini buses shuttle services and train service. If you want to wander across the city, make sure to book cabs for comfort and convenient journey.
Kayseri Airport Information
Kayseri Erkilet Airport or Erkilet International Airport is a military airbase and public airport, which is located 5 km (3.1 mi) north of Kayseri in the Kayseri Province of Turkey. Erkilet international airport serves about 1 million people every year. The airport consists of two terminals: Domestic and International Terminals.
Local Transportation To & From Kayseri Airport
Travelers can get through Taxis and shuttle buses; and are available for 24 hours in Kayseri Airport. You can find several local buses to move around from nearest bus station or main train station. It is easy and quick to find taxis at any street corner or hotel.
Popular Airline Routes
Kayseri Airport AddressErkilet International Airport,
Ahmet Yasevi Mahallesi,
Mustafa Kemal Paşa Blv.,
38090 Merkez/Kocasinan/Kayseri,
Turkey
Ph: +90 850 222 0724
Scroll