Flights to Kiev
Take flight to Kiev, renowned for its breathtaking views and charming churches. With its 3 million people and rapidly changing economy, this vibrant city is poised to become an increasingly popular backpacker destination, and has indeed grown significantly ever since Ukraine opened its doors to visa-free tourism. Book a flight to Kiev with Rehlat and you'll discover there is more to Ukraine's capital than meets the eye. Rehlat – One of the fastest growing travel websites in the Middle East offers amazing deals and offers on Kiev flight bookings and hotel reservations as well.
Things to Do & Popular Places in Kiev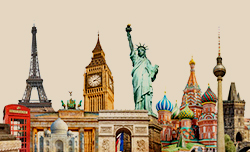 Don't Miss Kiev Attractions
Kiev is an extremely beautiful city. There are several museums, which exhibit the historical artifacts, monuments, historical holy churches and monasteries, and many more relaxing aqua parks sprawled in different areas of the city. Kiev city is emerging on the world arena! It is full of museums, vibrant nightlife, beautiful architecture and relaxed atmosphere. Chornobyl Museum, Khreshchatyk (Хрещатик) Street, Kyiv Pechersk Lavra, German Military graveyard, Dream Town Aqua Park, and, Golden Gate of Kyiv are the major places to visit and explore in the city.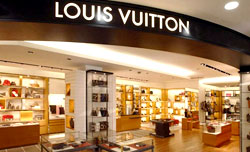 Best Shopping Malls
Kiev might just be the best shopping destination in Europe. Really! In Kiev one can find dozens of fashionable boutiques. Those looking for shopping malls in Kiev can visit the Globus mall, which is located behind Maidan Nezalezhnosti. Mandarin Plaza offers a number of very good restaurants amid the chic boutiques. Other famous shopping mall in Kiev is Ocean Palza on Antonovycha street.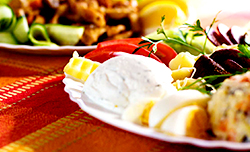 Food and Dining in Kiev
In Kyiv, visitors can find examples of both Ukrainian national and modern European kitchen. Ukrainian national cuisine varies from region to region, but overall it's generally very delicious and nutritious. Ukrainian recipes are simple, and typical ingredients can be found at every market across the country. Fun and all kinds of entertainment activities are easy to find in Kiev. Entertainment, adrenaline, fun & joy, and bars and clubs crawling - you can get it all and even more in one place.
Transportation in Kiev
A plethora of public transportation facilities are available in Kyiv. But despite the trolley buses (electric buses), trams (streetcars), buses, the metro, microbuses and minivans, it's still not enough to prevent frequent overcrowding. Public transport starts running around 05:45 and closes down a bit after midnight.
These are the public transit options and are convenient to cover all the important places. Taxis and cars also considered as the best choice to explore the city and nearby places.
Kiev Airport Information
Boryspil International Airport (IATA: KBP, ICAO: UKBB) is the largest airport serving Ukraine, which is located 29 kilometres east of Kyiv. There are nonstop flights to many destinations around the world. The airport serves to nearly 6,890,443 passengers in recent years. The city airport has three operational terminals and one VIP terminal.
Local Transportation To & From Kiev Airport
Exiting of the terminals in Boryspil Airport, travelers should be approached by cabs. The SkyBuses headed to Kyiv leave from Terminal B and F roughly every 10-15 minutes. Intercity buses, mini buses, and sky buses are the major means of transportation options available to and from the airport. Travellers can also find large number of taxis near the terminal building.
Popular Airline Routes
Kiev Airport AddressBoryspil International Airport,
Boryspil,
Ukraine,
PH:+ 380 44 393 4371
Scroll