Emirates Airlines Online Booking

Get your Emirates Airlines online booking done only at Rehlat which complements the airline's standards with its simple, secure, and fast booking gateway. It's not about your Emirates Airlines booking only, the website makes your journey even more convenient with all the information pertaining to the airline at one place. Emirates Airlines best selling routes, baggage allowance, food & beverage section, on-board amenities and services, or the updated information about your booked Emirates Airlines flight status – get all this at one click.
Avail Flat 20% Off on Emirates Airlines flight booking Use Coupon: "SPRING". Hurry Up!
Emirates Airline
Popular Routes
Emirates Airline Information
About Airline
Check in & Flight Status
Baggage Information
Food & Beverages
About Emirates Airlines
One of the most prominent airlines of the Middle-East, Emirates Airline was founded in 1985 with just two aircrafts a leased Boeing 737 and an Airbus 300 B4. Currently, Emirates Airlines fleet size is a whooping 230 aircrafts, primarily of wide-body planes like the Airbus A380s and Boeing 777. This world class Middle East Airlines offers a wonderful combination of safety and luxury, easing the flying experience considerably.
Over the years, Emirates have won many awards for good services offered by them. The Emirates Airlines has been internationally recognised for:
Best In-Flight Entertainment

Best In-Flight Cuisine

Best Overall Passenger Experience

Best International Airline

Best Middle East Airline
If you are looking for the safe and affordable airline, then Emirates Airlines flights tops the list with its advanced feature and facilities. Touted to be the largest airlines in the Middle East, Emirates flights fly over 1500 flights per week. Emirates airlines online booking is available for over 150 destinations across 142 cities in 80 countries from its main hub at Dubai International Airport.
Rehlat.com provides best deals and offers on Emirates Airlines online booking. To book simple, easy, fast, and secure, you need an Emirates Airlines booking gateway that offers complete convenience and comfort at your fingertip, at Rehlat.com we offer just that! We provide all the information about Emirates flight deals, popular routes, in-flight entertainment, baggage allowance and Emirates Airlines flight status.
Enter your destination, journey date, and other required information to get the best deals on Emirates Airlines booking from Rehlat.com.
Emirates Airlines - Things to Know
Emirates Airlines has redefined the words "luxury" and "comfort" with its cutting edge technology and passenger's safety is the key motto of Emirates. Here is the list of high-end services provided by Emirates Airlines.
Luxury in-flight facilities

Exclusive on-board lounges

Dedicated entertainment system

Private suites

In-seat power for your laptop and mobile

A side table for space to work

Sophisticated shower spas

Food and beverage outlets
Emirate Airlines Travel Class
The seating arrangement of Emirate Airlines is classified into three different categories:
First Class – Seat cum fully flat bed with mattress, a vanity table and mirror. First class private suites are available on all A380 and A340-500 aircraft, and on most Boeing 777s.
Business Class – The flat-bed Business Class seats of Emirates come with power point for your laptop and a side table for space to work. Drink of your choice from your own personal mini-bar and relax with your entertainment system.

Economy Class – Comfortable seats with in-seat power. Mobile phone and data roaming services is provided to enable you send emails or create your latest blog post. You can also make calls to people on the ground.
Amenities offered by all Emirates Airlines Flights
Wi-Fi facility for up to 10 MB of data for free on A380 flights and most of the Boeing 777 fleets

In-seat satellite telephone

On-screen SMS/e-mail services

Maximum number of lounges

Flat seat cum bed

Fully stocked bars

Electric sockets at every table

Over 2,500 channels of movies, TV shows, music in multiple languages

Cartoons and Disney classics for infants

High quality and Appetising meals, desserts, and alcoholic,non-alcoholic beverages

Newspapers and Magazines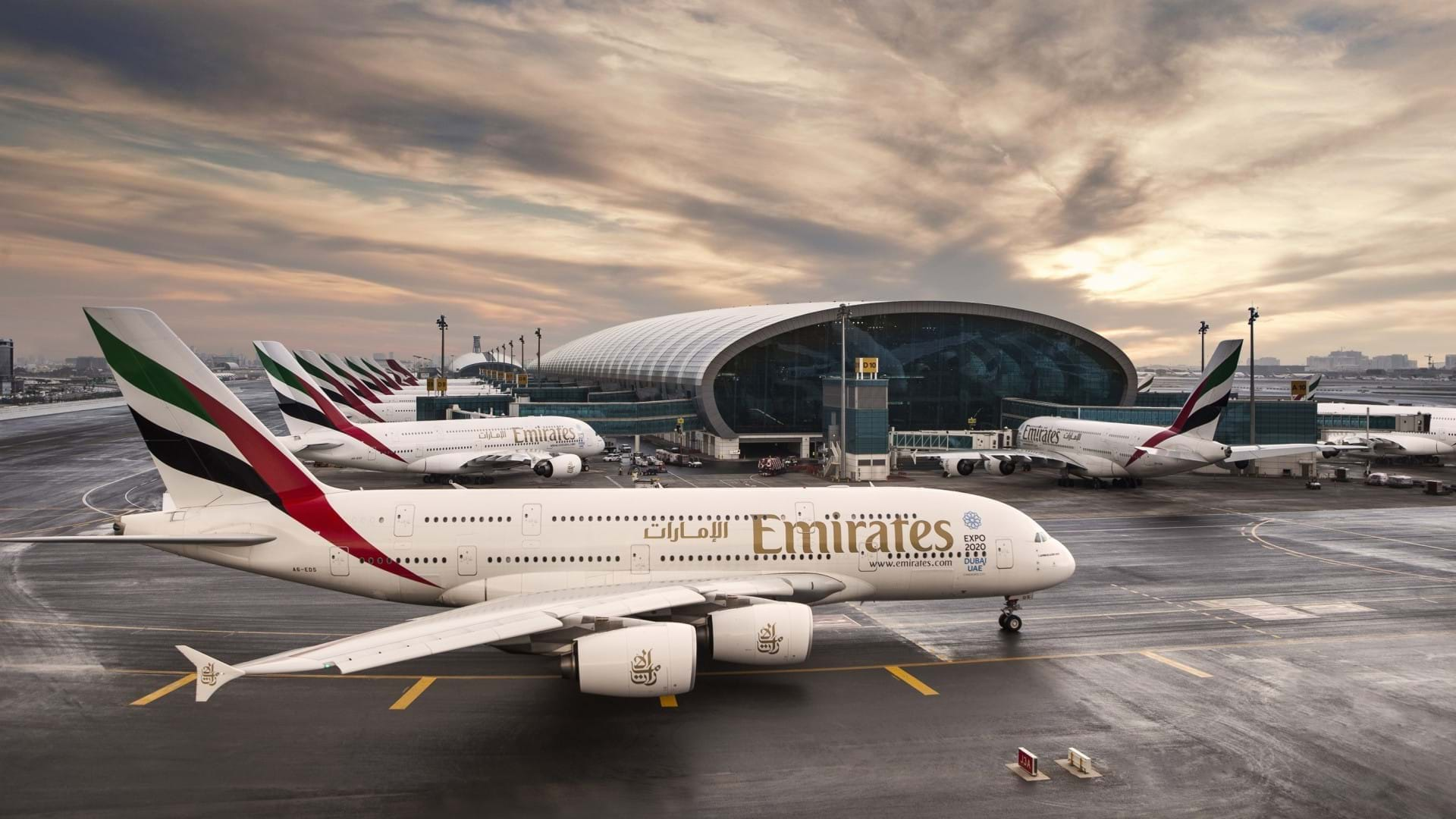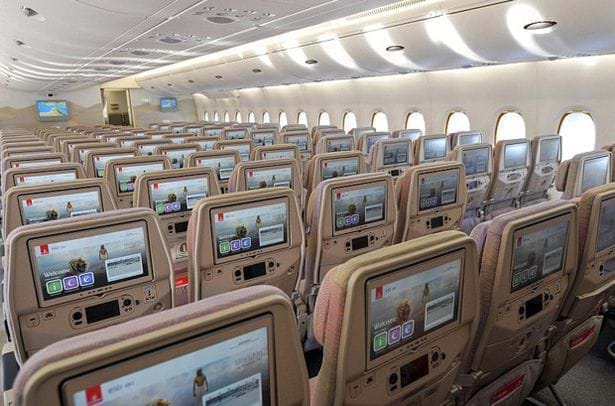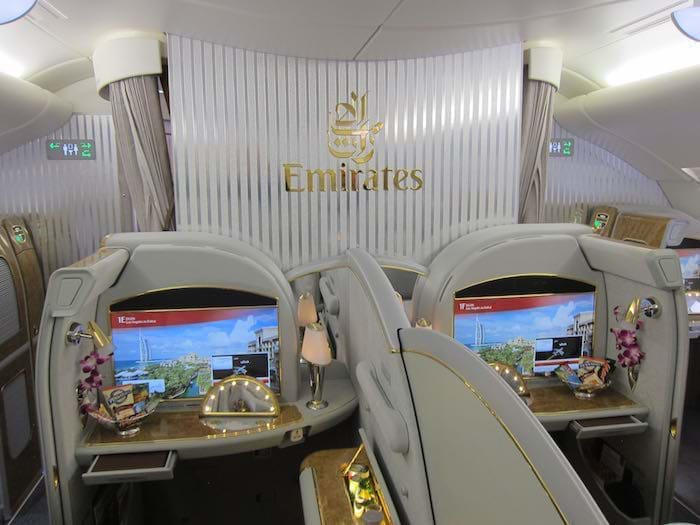 Emirates Airlines Online Check In
Emirates Airlines online check in process is available between 48 hours and 90 minutes prior to your Emirates Airlines flight departure. You can check in online for all Emirates Airlines flights as long as you have a valid and confirmed Emirates flight booking.
Why Online Check In?
Saves your valuable time

You can choose your seat at no extra cost

Print your boarding pass or receive a mobile boarding pass at the airport to save time

Allows you to earn miles on your flight by entering your Emirates Skywards number

Choose your lunch, snacks and beverages
Airport Check In
If you are facing a problem to complete check in on web, you can also complete Emirates Airlines check in directly at the airport at least 90 minutes before your scheduled departure time. Passengers will be allowed in the boarding area before 45 minutes of the scheduled departure time and gates will close before 20 minutes before flight departure.
Flight Status Updates
To check the Emirates Airlines flight status updates, click the link and get an update on flight status by entering your route and flight number.
Emirates Airlines Baggage Allowance
Emirates baggage allowance is one of the most moderate and flexible for all its flights. The standard Emirates free baggage allowance for all other destinations (excluding South America and North America) varies from one class to other.
Emirates baggage allowance from/to - other destinations
First Class: 50 Kgs
Business Class: 40 Kgs
Economy Class: 30 Kgs
Emirates baggage allowance from/to – North/South America/Canada
First Class: 2 Pieces at 32kg each
Business Class: 2 Pieces at 32kg each
Economy Class: 2 bags at 23kg each
Food & Drinks on Emirates Airlines
Emirates Airlines flights are always in the forefront to offer quality food and drinks to their customers. Emirates pays attention to what its customer wants, providing good quality wines, including vintage port and champagne, to its customers.
You can order a wide range of special meals (23 variations) and to ensure availability, it is preferable that meal requests are ordered at least 24 hours before the flight or at the time of Emirates Airlines flight booking.
Food & Beverage for First Class Travelers
Regionally inspired menus by world class chefs

Vegan, vegetarian, non-vegetarian meal options

Healthy meal options with fresh and best quality ingredients

Wide range of complimentary drinks including cocktails, champagne, and vintage wines (not available on flights to Saudi Arabia)

Order multi-course meals and snacks from an extensive menu at any time
Food & Beverage for Business Class Travelers
Gourmet dining option with extensive menu to choose from

Vegan, vegetarian, non-vegetarian meal options

Healthy meals

Wide range of complimentary drinks including cocktails, champagne, and vintage wines (not available on flights to Saudi Arabia)
Food & Beverage for Economy Class Travelers
Delicious and satisfying vegan, vegetarian, and non-vegetarian meal
Note:Range of complimentary drinks including spirits, beers, aperitifs, and a choice of excellent red and white wines are available except on flights to Saudi Arabia. Champagne is also available, at a reasonable cost for most of Emirates flights.