Cheap Flights to Los Angeles
Los Angeles Flights
From hot, sandy beaches to spectacular architecture and artwork, there are plenty of reasons to love L.A. Its amusement parks and close up interactions with Hollywood have made it a destination for visitors from all over the world, but locals also take advantage of the many attractions. Malibu s beaches and the tranquil gardens at the Getty Center provide respite from busy freeways, while Griffith Park offers numerous opportunities to explore. Book your Los Angeles flights with Rehlat, one of the fastest growing online travel companies in the Middle East, and get amazing deals and offers on your flight bookings. Save money with lowest fares on Los Angeles flight tickets and enjoy your air travel.
Things to Do & Popular Places in Los Angeles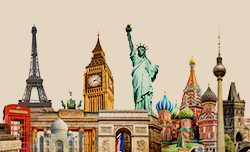 Don't Miss Los Angeles Attractions
There are many tourist attractions added to the list are few must see Santa Monica Pier, Griffith Observatory, Venice Beach, The Hollywood Sign, Disneyland Resort, Sunset Strip, Los Angeles Central Library, Los Angeles City Hall, Knott's Berry Farm, Santa Anita Park, Six Flags Magic Mountain, Huntington Library, Art Collections & Botanical Gardens, Los Angeles County Museum of Art, Natural History Museum, California Science Centre and Los Angeles Zoo.

Best Shopping Malls
Shopping is one of the best activities in Los Angeles, whether it's digging through vintage stores or window-shopping for extravagant luxury goods. The shopping experience begins in the sprawling LA Fashion District in Downtown LA, and from there it's choosing from top shopping centers like The Grove, Beverly Center, Hollywood & Highland, The Americana at Brand, Third Street Promenade or Santa Monica Place. Eclectic shopping neighborhoods can be found throughout Los Angeles, while the city's numerous museum gift shops offer a variety of unique cultural gifts.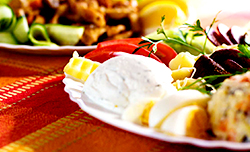 Food and Dining in Los Angeles
Los Angeles has one of the most dynamic dining scenes in the country, offering everything from street food to James Beard Foundation Award Winning restaurants. From California cuisine to organic ingredients, food trucks and winter and summer dine L.A., L.A.'s culinary influence can be felt across the country. Food aficionados can experience the restaurants of Wolfgang Puck, Thomas Keller and Nobu Matsuhisa, as well as a new generation of culinary stars like Kogi BBQ Truck founder Roy Choi and Top Chef champion Michael Voltaggio. Global kitchens can be found in culinary neighborhoods across Los Angeles. Los Angeles nightlife offers endless entertainment options, whether it's a quiet drink with that special someone or dancing the night away with thousands of fellow party people. Downtown L.A.'s vibrant nightlife includes L.A. LIVE and numerous bars and nightclubs.

Transportation in Los Angeles
Los Angeles provides numerous ways for travelers to visit, whether it's by land, sea or air. LA is well-known for its love of cars, and interstate highways like US 101, Interstate 10 and Interstate 5 connect the City of Angels with the rest of the country. Los Angeles International Airport (LAX) is one of the busiest airports in the world. Amtrak has various train routes that service Los Angeles, connecting California cities such as San Diego, Santa Barbara, and San Francisco, as well as daily routes to Seattle and Chicago.
Airport Information Los Angeles
Los Angeles International Airport is a major airport, serving Greater Los Angeles Area, which operates domestic and international flights from different parts of the world. It is situated in southWestern Los Angeles along the Pacific coast in the neighborhoods of Westchester, 16 miles (26 km) from Downtown Los Angeles. The airport will manage approximately 70,622,212 passengers every year from all across the world. Los Angeles Airport is a major hub for Alaska Airlines, American Airlines, Delta Air Lines, Great Lakes Airlines, United Airlines, and Virgin America.
Local Transportation To & From Los Angeles Airport
You can find Airport shuttles, metro, buses, coaches and taxis to reach the city from Los Angeles International Airport. It will take around 34 minutes to make a 19.6 miles journey via I-105 E and I-110 N. You can also find other routes via I-10 and via S La Cienega Blvd to reach the International airport from the centre of the city.
Popular Airline Routes
Los Angeles Airport AddressLos Angeles International Airport,
1 World Way,
Los Angeles,
CA 90045,
USA
Phone: +1 855-463-5252
Scroll