Flights to Dubai
If you are looking for cheap flights to Dubai, Rehlat – one of the fastest growing travel websites in the Middle East has got great deals on all airlines. Whether you are planning for a weekend break, or a holiday vacation, or business trip, Rehlat offers cheap flights and best deals on Dubai flights with different airlines operating from your city. Find dozens of travel deals for both round trip and one way Dubai flights.
Things to Do & Popular Places in Dubai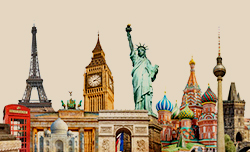 Must Visit Dubai Attractions
The city of Dubai in the United Arab Emirates (UAE) features some of the iconic sights, top ranked restaurants, vibrant nightlife and several adventure activities for kids and adults. Visitors can stay in true 'Arabian style' area around the Burj Khalifa, take a stroll around the lake and try yummy local food at the Al Manzil Courtyard restaurant or just unwind your senses on the glittering beaches. Alternatively, one can also visit the historic Bastakiya's wind-towers.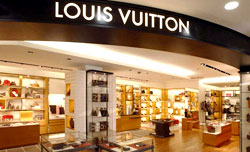 Best Shopping Malls
Dubai's incredible malls offer more than just shopping. With some 96 malls across the city, there's no better place to find that perfect dress, elegantly tailored suit or quirky memento. The best shopping malls in Dubai are: The Dubai Mall, City Walk, The Outlet Village, Mall of the Emirates, Mercato Mall, Ibn Battuta Mall, WAFI Mall and to name a few.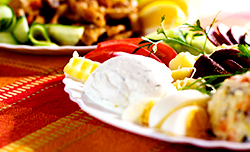 Food and Dining in Dubai
When it comes to food, the vibrant city Dubai is almost too exotic to imagine. There are several restaurants serving virtually every national cuisine from around the world, including many specializing in Dubai's own Arabic delights. One can choose from a glittering array of celebrity restaurants and a huge variety of Middle Eastern food. Famous restaurants include: COYA Dubai, Indego by Vineet, La Petite Maison, Nobu Tong Thai.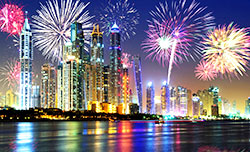 Nightlife in Dubai
Dubai is also popular for its vibrant nightlife and it has much to offer of late night entertainment and the emirate regularly hosts some of the world-renowned DJs, most popular club nights and artists from around the globe including David Guetta, Martin Garrix, Katy Perry, Nicky Minaj, Chris Brown and more.
Transportation in Dubai
Cars, buses, Tram cars, Metro rail, high-speed rails, and waterways are the major transportation facilities of the city. Taxi services are easily available at affordable prices. Water buses and water taxis are mostly available on selected routes.
Dubai Airport Information
Dubai flights arrive at the Dubai International Airport (DXB), which operates both domestic and international flights. This is the second largest airport in the world which has 3 terminals and consists of 75 million passengers capacity yearly. Dubai airport is spread over 7,200 acres of land and consists of four terminal buildings and four concourses.
Local Transportation To & From Dubai Airport
A popular way to get around Dubai is Taxis, which are efficient, metered and reasonably-priced, with well-trained and courteous drivers. A clean, air-conditioned and modern system directly linked to Dubai International. Transport doesn't get much easier than the Dubai Metro! Buses are a low-cost option, mainly suited to residents or people familiar with the city, as the network is extensive.
Accommodation in Dubai
Dubai boasts of several budget hotels and has many state-of-the-art 5-star luxury hotels that offer an engaging environment and exceptional culinary experiences to their guests. Apart from a host of contemporary amenities like fitness centers, Wi-Fi, bed and breakfast benefits, most of the Dubai Hotels have world-class hospitality combined with scenic outside views to delight the guests.
Popular Airline Routes
Dubai Airport AddressDubai International Airport
Airport Code: DXB,
P.O Box 2525,
Dubai,
United Arab Emirates
Ph: + 971 4 224 5555
Scroll